This years Heritage Theme is "Altogether Inclusive". We are exploring ways to be more inclusive to all our visitors and bring our museum and history to those who are unable to be here in person.
For our Heritage Week, we're bringing to you a Scavenger Hunt online! We're asking users to look across our website (Community Map, Memory Band, and Object Collection to name a few!) to answer all ten of our questions. Submit your answers to our email (Pittmuse@telus.net),the contact page on our website, or drop them off in person during our open hours to be entered into a draw to win prizes.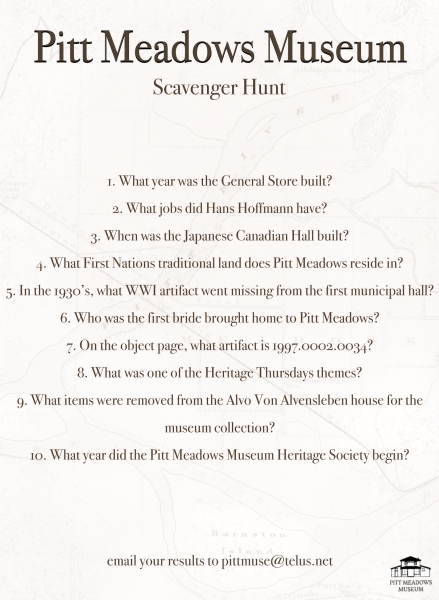 When: For the remainder of February, with the draw being done in March. However, the "hunt" will be left up for those who still want to do it after.
Why: This event is held for Heritage Week, and if you answer all 10 questions correctly you will be entered to win a Spring Break Craft kit or our History of Pitt Meadows book!
Cost: This is a free event to anyone who wants to participate!
If you have any questions or are particularly stumped on a question, feel free to contact us!
Happy Heritage Week from all of us at the Pitt Meadows Museum and Archives!