This summer a donation arrived at the Pitt Meadows Museum that astounded the staff. It happened when postal history collector Tim Woodland walked in with his recent acquisition of a first day cover with a cancellation stamp from a new post office in Pitt Meadows dated February 1st, 1908. Yes, this would be the post office that would reside for more than 30 years in the newly opened General Store building on Harris Road, the same municipal heritage structure that now houses the Pitt Meadows Museum and archives.

Better yet, the individual who sent the post card the cancellation stamp is on was none other than Wellington Jeffers Harris, a Pitt Meadows resident, the first reeve of Maple Ridge, a provincial MLA, and one of the signatories to the petition to incorporate Pitt Meadows as a municipality. Harris Road is named for him and his family.

Legend has it the W.J. Harris learned of Pitt Meadows from non-other than the explorer Simon Fraser (yes, the Fraser River is named after him),who had retired on farm land next to Harris' father's farm in Simcoe County, Ontario. Fraser told the young W.J. Harris to go west to B.C. and settle in Pitt Meadows as one day a railway would go through and make him a wealthy man. When grown, Harris and his wife, Mary Jane, did just that, settling in before the incorporation of Maple Ridge. When that community did incorporate in 1874 it included Pitt Meadows in its boundaries and W.J. Harris became its first Reeve.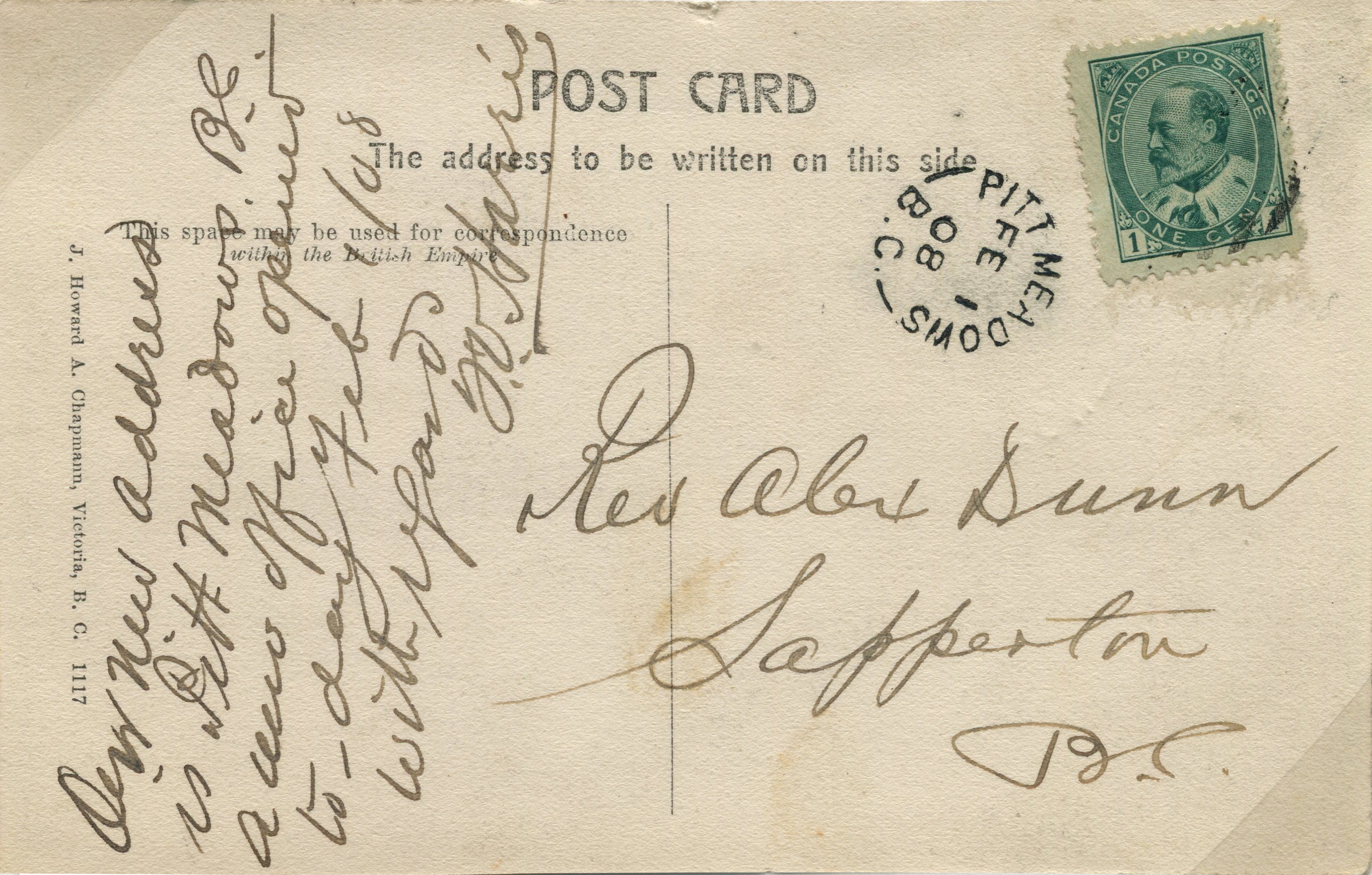 The note on the postcard reads: "Our new address is Pitt Meadows, B.C. A new office opened today February 1/08. With Regards, W.J. Harris", and it was sent to another significant B.C. figure, the Reverend Alexander Dunn of Sapperton.

This is the first time staff at the Museum have seen Mr. Harris' hand writing and signature and it is likely one of the few examples of it that exist. The donor is not yet ready to part with the original of this document but has allowed the Museum to take a high resolution scan, and this scan will soon be on display in our "Buildings through Time" exhibit.

There are also no known positively identified images of Mr. Harris, but, perhaps, this donation is the start of something bigger and one will soon be found and, in the spirit of the Centennial, donated to the Museum and the Community.