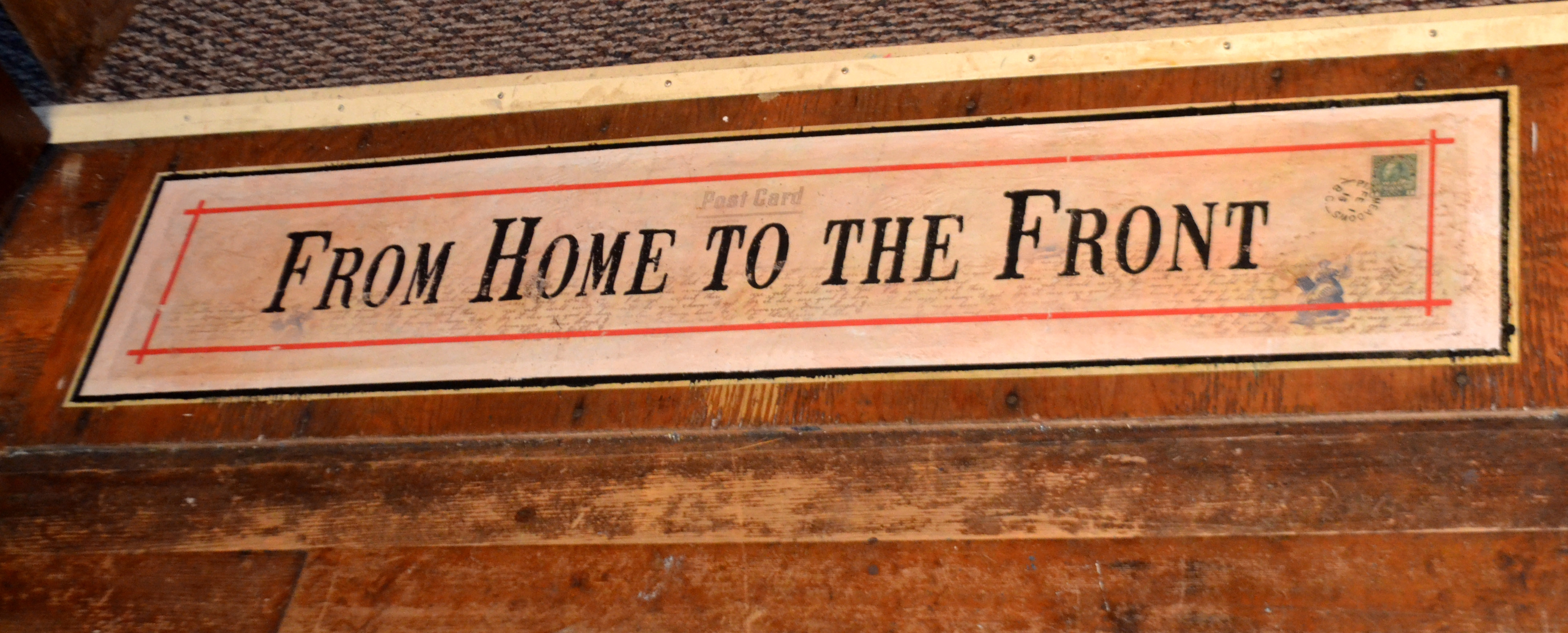 This year the Pitt Meadows Museum brought WW1 in 1915 to the community. Our annual exhibit focuses on a school teacher who resided in the area named James Stuart and his lovely lady friend Miss Minke Meadows who is a nurse working in a field hospital near the front lines.
When you enter the exhibit you pass under a barbed wire archway that is adorned with letters and postcards symbolizing items from home and the front lines.

Inside Miss Meadows is set in front of a field hospital tent, a hand-painted version of a WW1 Red Cross camp image which we purchased the rights to use through the Canadian War Museum. To further create a realistic setting our resident artist Jen, along with our summer students Kia and Austin went to work creating a canvas tent around the image making tent flaps and an awning to help set the mood of the room. Miss Meadows' nursing outfit was carefully recreated with help from our volunteer Julia Tomanova and with new employee Kia spending an afternoon learning to sew a blouse with Curator Leslie's help.
On the opposite side we have school teacher Mr. James Stuart who is inside the school house teaching children about the war and the popular poem In Flanders Fields written by Lieutenant Colonel John McCrea.
The north wall between James and Miss Meadows are corresponding letters they have written back and forth to each other while working so far apart. Carefully researched and written by Curator Leslie, they contain interesting facts about what is happening during WW1 both abroad and in Canada, as well as daily life in Pitt Meadows and help to bring a sense of dialogue to the exhibit.
We have also have new artifacts featured in our display cases. One case houses our exhibit pieces from WW1 which include the British Columbia Magazine: Victory Edition, The Roll of Honour (a list of men who went to war that resided in Pitt Meadows),a woman's munitions pin, medals, a canteen and various other items to check out.
Our second display case focuses on the internment camps in Canada. One of our volunteers has allowed us to put some of her grandfathers belonging on display. These include beautiful handmade walking sticks from the prisoners that were given as gifts, post cards taken during censorship and descriptions of the camps.
Come by and check out our new exhibit here at the Pitt Meadows Museum! We are open Wednesday to Sunday from 1:00 – 4:00pm, hope to see you soon!